Ecuador - Kimsakocha/Loma Larga
Protest against arrest of FOA (Federación de Organizaciones del Azuay) leaders. Taken from Ecuachaski/Ecuarunari. FIAN Ecuador Flickr.
Peasant and indigenous communities of Kimsakocha in the Azuay Province have suffered the violation of their right to free, prior and informed consultation, when not having been consulted by the Ecuadorian government to grant the mining concession for Canadian mining companies IAMGOLD / INV. Such illegal and contrary concession to international commitments on human rights, which the government of Ecuador signed voluntarily and in good faith, comprises water sources for drinking and farming activities on a small scale, and threatens their right to food and water.

Along with the signing of the concession agreement contradictory to the rights enshrined in the Ecuadorian Constitution, other international instruments on indigenous and tribal peoples and the United Nations Declaration on the Rights of Indigenous Peoples, a Mining Law (Official Register Supplement No. 517 of 29-Jan-2009) was passed. Its emission means a lack of obligation to respect the right to ensure the imprescriptible, inalienable and indefeasible property of these peasant and indigenous communities' communal lands and to no longer be displaced from them as required by Article 57 of the Constitution of Ecuador.

Within this scenario, protests were performed against the Mining Law and the Kimsakocha concession, to which the authorities reacted by criminalizing three community leaders for their resistance against mining.
Latest News
Rapport | 31-10-2013
Extraction
Equateur
Kimsacocha
Fiche d'information sur le projet d'exploitation minière dans Kimsacocha - Loma Larga
Vidéo | 22-03-2013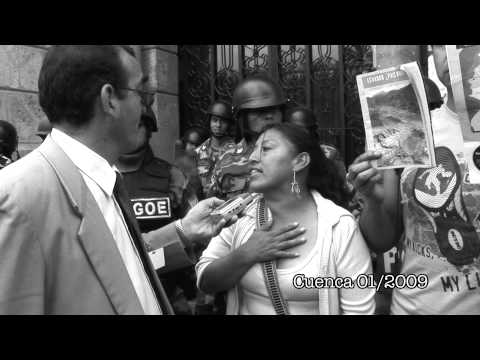 Declaration | 01-10-2012
Droits des Paysans
Equateur
Kimsacocha